Destined to shine, her bright personality, experience, and sunny disposition led Angela to break boundaries in the world of sports and media as the first Asian-American female host to appear on networks such as ESPN, Yahoo! Sports, Tennis Channel, and Fox Sports to name a few.
Currently she hosts the "YAHOO! SPORTS MINUTE", the #1 online sports show watched daily by millions, and hosts the LIVE pre-game show for the Los Angeles Dodgers. Angela served as sideline host for Season 4 of NBC and G4TV's summer hit "AMERICAN NINJA WARRIOR". She co-hosted D/S2DIO Dance lifestyle channel's  THE ARENA" break-dancing competition in the Fall of 2012.
Behind the lens, Angela directed and executive produced the independent feature documentary film, "Plastic Paradise: The Great Pacific Garbage Patch", which is currently on the film festival circuit and set to release later this year. She is also a contributing writer for travel site wandermelon.com and Matador travel network.
ADVENTURE TRAVELER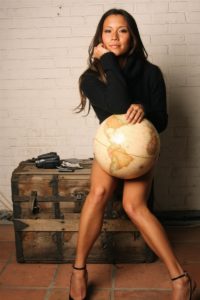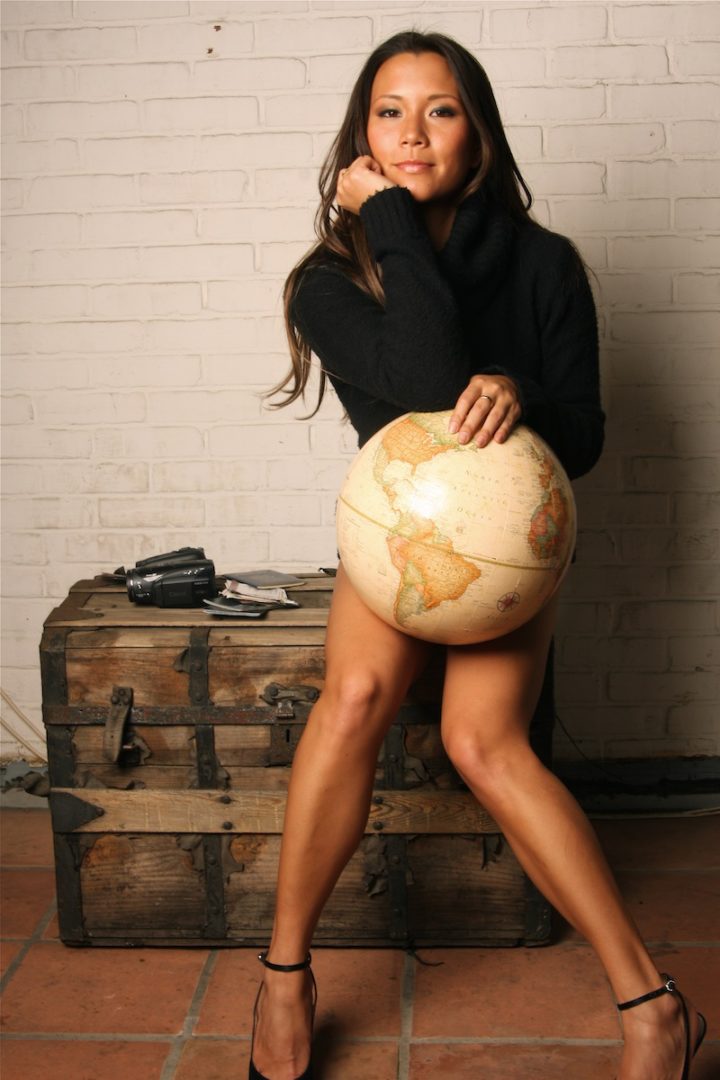 Chasing sharks. Kissing stingrays. Tasting bugs. All things that are normal fare in Angela's world.
In 2011 Angela was nominated for an Emmy award for her work hosting NBC's lifestyle luxury newsmagazine, "LXTV First Look". From 2008-2011, Angela's passion for travel and adventure took her everywhere as host of NBC's "LXTV: FIRST LOOK". From exotic Hong Kong, to all around Los Angeles,celebrating fashion, cuisine, culture, and all things luxurious for the high-end newsmagazine.
She was also one of the faces of MTV's new global venture, MTV IGGY. Angela hosted "InnerView" where she sat down one-on-one with top global figures and trendsetters as well as hosting the "MTV IGGY" show airing on MTV channels worldwide. As a producer, Angela has been in the field for MTV News and Germany's Pro Sieben Network.
A proud Bruin, Angela graduated from UCLA and studied abroad at the University of New South Wales in Sydney. She has conducted field research on the Great Barrier Reef as well as surveyed the reefs of the Andaman Sea. Angela was one of the few selected as citizen marine biologists for the Malibu Reef Check internship program in Thailand, becoming a certified EcoDiver in November 2009. Angela is an avid diver who likes to chase sharks and sunsets around the world. She speaks Mandarin Chinese, Spanish, and some German. In her spare time, she has traveled to over 40 countries in hopes of filling her third passport soon with new stories and adventures behind each stamp.
INVESTIGATIVE JOURNALIST
As a host and correspondent for Al Gore's Emmy Award-winning Current TV from 2005-2007, Angela also produced, shot, and wrote her own stories. Her international work includes countries
such as the Philippines, Australia, China, and Guatemala just to name a few. Whether it be discussing women's status in China; investigating coffee as a commodity; looking at terrorism's affect on tourism in Palawan; the dangers of binge drinking in Europe; or shedding light on the myths behind STDs; Angela's journalistic sensibilities and news background (Channel One News) guide her storytelling. In 2006, Her 3 part documentary series for Current TV about Underground Christian Missionaries in China won a Telly Award.
SPORTS BROADCASTER
Born in Northern California, playing outdoors was not an option, it was a way of life. Angela's love of sport, determination, and competitive spirit helped her thrive in volleyball, basketball, and softball throughout high school. Always blazing her own path, she decided to teach herself how to surf when most of the line-up was dominated by men. Also a self-taught snowboarder and skateboarder, this native Californian brings with her over 18 years of action sports experience. Angela has competed in pro/am events, was a team rider for Loaded Skateboards, and has been product sponsored by Oakley, Vans, Reef, Roxy, Billabong, Rip Curl, and Fox Racing.
Angela started her career serving as lead correspondent on Fox Sports Net's "54321" and "FSN's DIG!" volleyball newsmagazine show, which then led to reporting for "X Center" for The X Games on ESPN2. Sports and entertainment collided at ESPN Hollywood, where Angela hit the red carpets, premieres, and awards shows, to interview the top athletes in the world.  Angela continued her duties for the X Games through 2008.  Angela joined The Tennis Channel in 2009 as anchor of "The Court Report" news program.
Angela started 2010 as the new host of the Yahoo! Sports Minute, reaching millions of viewers daily online. In February, She covered the 2010 Winter Olympics for Yahoo! Sports and GrindTV live from Vancouver.  Since joining the Yahoo Sports Minute program, it has gone on to win a 2012 Telly Award as well as a 2010 Webby Award.
As a new addition to the NBC and G4 "American Ninja Warrior" family, her personality and experience gives fans an up-close look at the course and its competitors and provide insight into the overall "American Ninja Warrior experience." The show receives consistently high ratings and has become a summer hit.
ONLINE
Growing up in Silicon Valley, California, it is only natural that Angela is a self-professed tech geek, with enough gadgets to start a store. Game on! Angela also hosted Playstation Underground for Sony at E3 and worked for XBOX Live. She is at the forefront of New Media having hosted online shows for E! News Now, D S2DIO, AlliSports, EXPN.com, ESPN360.com, MTV Iggy, GrindTV, Yahoo!, Lat34, Sportnet, AOL, and Google Current.
In addition to hosting, Angela has been in feature films (Shackles, Street Kings, A Perfect Getaway), as well as various commercial and print campaigns for companies such as AT&T, Hewlett Packard, and Honda. Angela continues to make guest appearances on Fox Business News Channel, USA Today, as well as other media outlets.
Angela is an active member of the Asian American Journalists Association, American Democracy Institute's Young Leaders Program, and volunteers with Boarding House Mentors, teaching at-risk youth how to surf and snowboard. Sometimes she finds time to sleep.